Norfolk man charged over Suffolk house weapons haul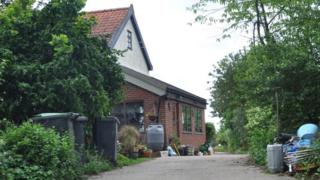 A man has been charged with illegally selling guns after a large weapons haul was discovered at a house in Suffolk.
The guns, including an AK-47, were found in April at a house in Wyverstone that was owned by James Arnold. He was arrested and died in prison.
Anthony Buckland, 64, of Mill Road, Stoke Holy Cross, Norfolk, has been charged with 15 firearms offences.
He is also accused of nine fraud offences and is due to appear before Norwich magistrates on 5 December.
Suffolk Police said Mr Buckland was charged with:
Selling/transferring a prohibited weapon (pistol)
Nine counts of fraud by false representation
Possession of a prohibited weapon (disguised firearm)
Four counts of selling/transferring a firearm to a person who was not a firearm certificate holder
Nine counts of selling/transferring a prohibited weapon
A police spokeswoman said: "Buckland's arrest and charge follows the investigation into the discovery of a significant quantity of weapons at an address in Potash Road, Wyverstone on 13 April 2014."