Payout to widower after wife's fall at Ipswich NHS unit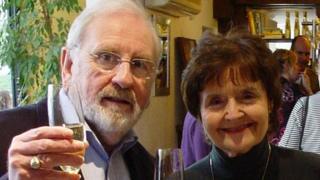 A widower has received a five-figure settlement after his late wife had a fall at an NHS care unit.
Joy Saunders, 76, fell from her bed at Bluebird Lodge in Ipswich in November 2012, despite her husband David warning staff this could happen.
The inquest in Ipswich heard the couple had been holidaying in Spain when Ms Saunders suffered a stroke.
Solicitors for her husband said a settlement had been reached with Serco, which runs the care unit in Ravenswood.
The company did not admit liability when agreeing to the settlement.
'Patient safety'
Bluebird Lodge is run by Suffolk Community Healthcare, which has been run by Serco following a £140m deal with the NHS.
Abigail Tierney, chief executive of Suffolk Community Healthcare, said: "We would like to extend our sincere condolences to Mr Saunders and his family.
"Patient safety and high quality care remains our top priority. We've increased staffing levels, increased training and invested in new policies, procedures and equipment."
The inquest heard that following the fall Mrs Saunders was found to have suffered a brain haemorrhage and was subsequently cared for at home until she died from pneumonia in December 2013.
A home office pathologist told the inquest the haemorrhage may have contributed to her death.
Recording a narrative verdict, Suffolk assistant coroner Yvonne Blake said: "It is not possible to establish the extent to which the head injury contributed to her death."
After the inquest, Mr Saunders said: "We've always maintained concerns about the nature and extent of care that Joy received.
"Nevertheless, we remain hopeful this inquest and our interactions with Serco will in some way help to prevent other similar deaths."