Titus Bramble banned from driving for 12 months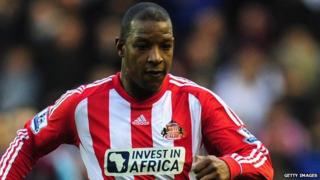 The former Ipswich, Newcastle, Sunderland and Wigan footballer Titus Bramble has been banned from driving for 12 months.
The 33-year-old, of Stone Lodge Lane, Ipswich, was found guilty of failing to provide information relating to the identity of a driver.
He had been summonsed for a speeding offence alleged to have taken place in Ipswich in April.
Bramble did not attend the hearing before magistrates in Bury St Edmunds.
Suffolk Police said Bramble, who is not currently signed to a club, was issued with the summons after a car was seen speeding in excess of the 40 mph limit on London Road, Ipswich on 1 April.
He was not charged with speeding, but was convicting of failing to give "information relating to the identification of the driver of a vehicle, namely a Land Rover TMB1, who was alleged to have been guilty of an offence".
Bramble was also fined £600 and ordered to pay £85 police costs and a £60 victim surcharge.
He began his career at his hometown club of Ipswich Town in 1998 before moving to Newcastle for £6m in 2002.
He played for Wigan Athletic 2007-10 before signing for Sunderland, who released him at the end of the 2012-13 season.