Suffolk County Council to oppose Ipswich Northern Fringe plan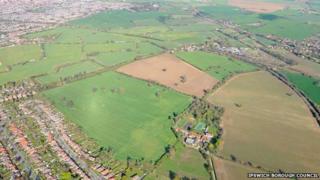 Plans for a 3,500-home development in the north of Ipswich have been dealt a blow, as Suffolk County Council raised concerns about the current proposal.
The borough council backed the master plan for the Ipswich Garden Suburb, and developer Mersea Homes has submitted plans for the first 815 homes.
But the county council said issues such as transport and education provision had not been fully considered.
Its cabinet has been recommended to object to the plans on 11 November.
The Northern Fringe plan covers a 482 acre (195 hectare) area between Ipswich and Westerfield.
The Conservative-run Suffolk County Council said it recognised the need for the work, but said there was a "lack of evidence" that developers would provide "sufficient infrastructure" to make the development a success.
Graham Newman, cabinet member for roads, transport and planning, said: "The current application will set the tone, if not the precedent, for the rest of the Northern Fringe and it needs to provide certainty as to how it and the rest of the development will be sustainable.
"It is important that we are confident the best has been secured for residents, businesses and the people of Ipswich before we support this application."
The Labour-run Ipswich Borough Council is due to consider the application next year.