Lavenham seeks Unesco World Heritage Site status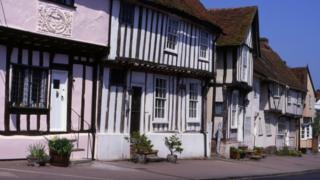 A Suffolk village, famous for its 200 listed buildings built in the 15th and 16th centuries, is to apply for World Heritage Site status.
Lavenham's business forum and parish council are behind the plan to apply to the UK government.
The government then decides which applications to forward to Unesco, which grants the status.
The Lavenham Forum said protected status would help balance tourism, the local economy and traffic.
Lavenham's timber-framed houses, shops and Guildhall were built using the wealth created by the medieval wool industry.
The forum said Lavenham's layout had remained largely unchanged since its development was planned in 1257 by the 1st Earl of Oxford.
'Considerable funding'
Roy Whitworth, acting chairman of the Lavenham Forum which represents 60 shops, businesses, hotels and restaurants, said: "We've got issues with the A1141 passing through the High Street and there are also parking problems and we need to balance tourism, traffic and the future of the local economy.
"Gaining World Heritage Site (WHS) status might help us attract the considerable funding needed to solve these problems, such as re-routing traffic.
"We're starting the ball rolling, but there is a lot of work to do getting support for the application."
The Department of Culture, Media and Sport (DCMS), which handles applications to Unesco, said its latest "tentative list" of prospective sites was compiled in 2011, but could not comment on whether a Lavenham application would be successful.
A DCMS spokesman said: "The first step for an aspiring WHS is to be included on the Tentative List. We do not expect to look at a new list for the UK before 2020."
The current list of 13 sites includes the Forth Bridge, the Lake District and the Turks & Caicos Islands.
The 28 UK sites which already have WHS status include the City of Bath, Saltaire in West Yorkshire and Stonehenge.