'Obese ambulance' demand rising in East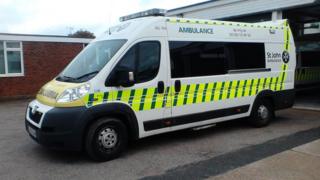 Demand for ambulances catering for obese patients in the East of England has risen dramatically in the past decade.
St John Ambulance, which supplies the specially-adapted vehicles, said the total had risen from about 24 trips a year in 2004, to more than 1,000.
Keith Hotchkiss, St John area manager, said: "What we are seeing is a higher proportion of younger obese patients."
The ambulances have larger wheelchairs and stretchers.
The NHS East of England Ambulance Service is looking to roll out its own special ambulances - known as bariatric vehicles - but currently hires St John Ambulance to provide transport for heavy patients in Bedfordshire, Cambridgeshire, Essex, Hertfordshire, Norfolk and Suffolk.
St John Ambulance's bariatric vehicles carry patients weighing up to 70 stone (444kg), while its extra large wheelchairs have a width of 38ins (95cm).
Mr Hotchkiss said normal ambulances can only cater for patients under 30 stone (190kg).
The number of people considered to be morbidly obese went up slightly from 1993 to 2002.
The East of England Ambulance service said that, for all patients, it made about 1,750 journeys a day.