Simon Warr sex abuse trial: BBC pundit says claims are 'malicious lies'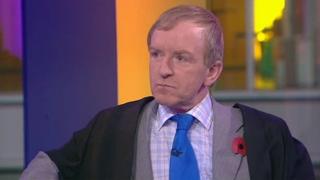 A former teacher and BBC contributor accused of historical sex offences has told a court he was a victim of "malicious lies".
Simon Warr, 61, denies seven offences relating to his time at two Suffolk boarding schools in the 1980s and 90s.
He told Ipswich Crown Court his accusers "could have been motivated by money".
Giving evidence, he denied being sexually attracted to "anyone under the age of 18".
When asked by prosecutor Andrew Thompson about allegations made by two former pupils of St George's School in Great Finborough, near Stowmarket, Mr Warr said he did not remember the boys concerned.
Earlier in the trial, the jury was told Mr Warr had watched boys while they showered after PE lessons and went on to touch one.
Speaking today, he said he never supervised showers and never taught PE to junior boys - the age of those who made the allegations.
"Do you know any reason why the should tell malicious lies about you?" Mr Thompson asked.
Mr Warr suggested they had put their heads together and embellished their stories, perhaps "doing it for the money".
Asked how one of the boys had identified him as being in the shower, Mr Warr replied: "He's either mistaken or a damned liar, it was not me."
When asked about allegations made by a former pupil of the Royal Hospital School in Holbrook, Mr Warr denied pinching the boy's buttocks.
He said an attempt to grab the boy's towel was "a bit of fun".
"It was an innocent act of someone trying to be a father figure," he told the court.
Mr Warr was a regular contributor to BBC Radio Suffolk and BBC Radio 2's Jeremy Vine show, as well as making television appearances on The One Show and a Channel 4 reality show called "That'll Teach 'Em".
The trial continues.