Sudbury car rolls across green into bungalow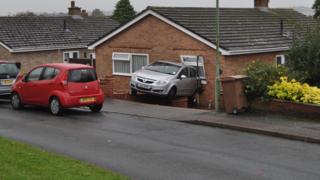 A car has smashed into the front of a bungalow after rolling about 100 yds (90m) across a sloping green.
The unoccupied Vauxhall crossed Tudor Green in Sudbury, Suffolk on Monday, while the home's owners were out.
David Maile, who lives there, said: "It was a shock when I returned and the chap whose car it was was standing there and he was really upset."
Mr Maile, 70, expected car and buildings insurance to cover the repairs to his home.
He had been swimming when he returned home at about 07:40 BST, while his wife Sheila had been out walking the dog.
The green has 18 trees on it.
"The chances of it missing all those trees are thousands to one I would think - absolutely marvellous isn't it?" said Mr Maile.
"The council took about 12 trees out about a year ago - had they all been there still I might have been a bit more lucky."
Mr Maile said the car's owner explained that the handbrake failed once he had got out and he tried to stop it, but it had gained too much momentum.
"We use that room as an office and it's knocked the desks back about two feet, so if I'd been sitting there it would have knocked me over and my head would have hit the bookcase, so I might not have been here now, but luckily I am," Mr Maile said.
"My wife was very, very upset to start with, but she's fine now - it's just one of those things, isn't it? You can't cry over spilt milk."
He said his building's insurer and the car owner's insurer were liaising, but they would not have to move out while the work was done.
"There are loads of people with camera phones and cars stopping to have a look," he added.