East Anglian Daily Times: Reprint marks 140th anniversary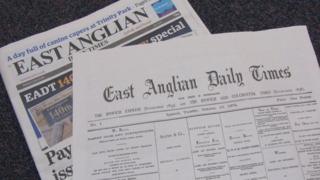 The East Anglian Daily Times has commemorated its 140th anniversary by reprinting its first edition, which included a court report on a "riotous prostitute".
The paper, which covers Suffolk and north Essex, first went to press on 13 October 1874.
The story about Jane Cook's appearance at Ipswich Police Court was headlined "A disgrace to her sex".
The newspaper reported she was jailed for one month with hard labour.
The 13 October 2014 edition, which contained the reprint, also carried a supplement featuring the history of the newspaper, including a range of photographs.
The 1874 paper had four broadsheet-sized pages, no pictures and the front page only carried advertisements.
In its opening editorial the paper stated it would be "independent of party and representative of none". It claimed it would report everything "faithfully and fairly, leaving good arguments to produce their just effect without editorial advice, or, as is too often the case, editorial misrepresentation".
'Powerful and relevant'
Terry Hunt, current editor of the Ipswich-based paper, said: "We've gone through some technical hoops to make the reprint happen, but it's worked.
"The most compelling part of it is the first editorial, written by Sir Frederick Wilson, who sets out his principles and they're still as powerful and relevant for us as they were when he wrote them.
"Who knows what the next 10, 20, 25 years have in store? All I can guarantee is that it will continue to change.
"I remember being at a seminar and being told by a succession of American professors that the internet was going to kill newspapers - well, it hasn't any more than commercial radio or commercial TV did."