Easton and Otley College rap video aims to change views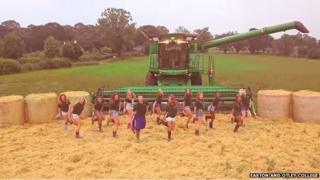 A video with rapping farmers and an exploding tractor aimed at encouraging young people into farming has been watched 15,000 times in a week.
The online video, by Easton and Otley College, has students singing and dancing along to a reworked version of The Wurzels' Combine Harvester.
Clare Dyble from the college said the video aimed to promote farming as a "viable thing to do" for young people.
"We hope it gets the message out in a fun and light-hearted way," she said.
"Farming and agriculture is facing a bit of a skills shortage at the moment and we really want to encourage young people into farming, agriculture and land-based courses," she said.
Easton and Otley College has campuses in Suffolk and Norfolk.
Lyrics in the reworked song highlight the earning potential in the industry, and asks viewers if they've "checked out the rims on this pimped-up John Deere".
Ms Dyble said the video had received an "overwhelmingly positive response" from the industry, and was also publicised by Stephen Fry.