'Overwhelming support' for Broomhill swimming pool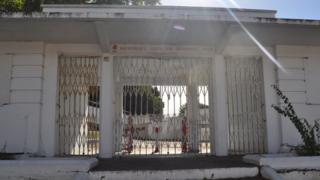 There has been "overwhelming support" for a project which could see an outdoor swimming pool reopened.
The Grade II listed Broomhill lido, in Ipswich, closed in 2002 and campaigners have been calling for it to be reopened ever since.
Fusion Lifestyle plans to restore the pool and has asked people for their input ahead of an application to the Heritage Lottery Fund.
The company said it received more than 2,200 responses in the first week.
A fitness centre would be built as part of the plans, which have received the backing of Ipswich Borough Council along with the promise of £1m funding.
But the proposal hinges on a successful £3m bid to the Heritage Lottery Fund.
A spokeswoman for Fusion Lifestyle said: "Initial reviews indicate overwhelming support for the restoration project, with the majority of people suggesting that they would use both the swimming pool and health and fitness facilities at the redeveloped site."
Broomhill, which has a 50m pool with diving boards and a children's pool, opened in 1938.
Fusion Lifestyle launched the questionnaire on 30 September and said it would continue to seek views "over the coming weeks".