Mildenhall Lodge care home's diabetic patient failings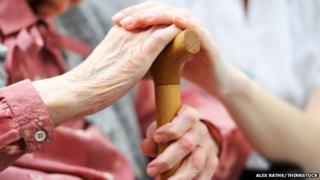 A new care home in Suffolk failed to provide diabetic residents with diets they needed and did not have enough staff, a watchdog report has revealed.
Mildenhall Lodge was told by the Care Quality Commission (CQC) it was below standard in four of five categories.
Mark Ereira-Guyer, Green and independent group leader on Suffolk County Council, said its performance was "treachery" to vulnerable people.
Care UK, which runs the home, said it would make the improvements needed.
The Conservative-controlled county council transferred 16 homes to Care UK in 2012.
Care UK opened Mildenhall Lodge, in Mildenhall, in June as part of a £60m investment in 10 new care homes.
'What treachery'
The home, with 60 residents, was inspected in July and the CQC's report said enforcement action was needed in care and welfare.
Diabetic patients' diets were not monitored properly and call bells went unanswered for up to 20 minutes,
Staffing levels needed improvement, assessment and monitoring of service quality was lax and record-keeping was poor.
Mr Ereira-Guyer said: "What treachery to the most vulnerable members of our community.
"When the council outsourced its care homes, [our group] warned this would likely lead to hiring cheaper staff and resultant loss of quality."
Caroline Roberts, Care UK's director of quality and governance, said: "We fully take on board the CQC's comments and want to apologise to residents and their families.
"We are confident the care will soon be of the high standard residents are entitled to expect."
Alan Murray, Conservative cabinet member for health and adult care, said: "We will take the necessary steps to ensure residents are safeguarded and improvements are made as quickly as possible."