'Wall of Death' Boxford pub celebrates George 'Tornado' Smith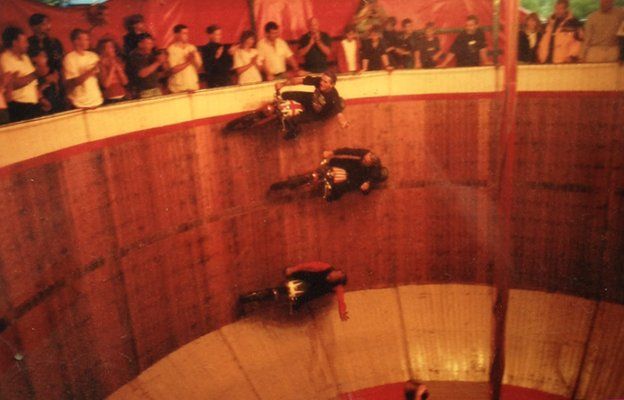 A pub has turned itself into a museum dedicated to a man who popularised the motorcycle "Wall of Death" attraction.
George "Tornado" Smith grew up at the White Hart in Boxford, Suffolk, and performed stunts from the 1930s until the 1960s.
His tame pet lioness, called Briton, used to ride with him.
The pub has been revamped to include photos and artefacts about Tornado, and his Wall of Death returns this weekend.
Smith set up his attraction at the Kursaal amusement park in Southend-on-Sea, and the lioness became part of his act, riding with him on the handlebars, before moving to a sidecar as she got larger.
He used to return to Boxford out-of-season and set it up there, where he could be seen taking Briton for walks around the village on a lead.
Nic Keeble, bar manager at the White Hart, said: "Tornado, who died in the 1970s, is a part of local folklore, and the lioness was buried under the pub car park, so it seemed fitting to celebrate his life by turning the pub into a bit of a museum."
First 'silodrome' with vertical walls introduced in US in 1915
Riders favoured the US Indian Scout motorcycle
First Wall of Death in UK appeared at Kursaal amusement park, Southend-on-Sea, in 1929
Some 50 shows toured UK in the 1930s
Elvis Presley's 1964 movie Roustabout based around a Wall of Death
Related Internet Links
The BBC is not responsible for the content of external sites.