Rosa Simon Music Fund aims to help children learn instruments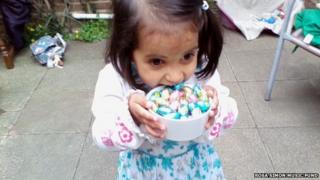 A three-year-old girl's love of music has inspired a fund to be set up to help children play musical instruments.
Rosa Simon died after being hit by a vehicle outside her home in Hadleigh, Suffolk, in June.
Her father, Paul Simon, said she "loved music making and dancing". The Rosa Simon Music Fund has raised £7,600.
"Our aim is to create laughter through music for as many children in Hadleigh and the surrounding villages as possible," Mr Simon said.
On the website for the fund, Rosa is described as being "a blur of movement, dance and laughter, whose zest for life remains an inspiration to all who knew her".
Mr Simon said: "We want to carry on and capture that inspiration, carry on her legacy.
"We aim to buy a cache of orchestral instruments and loan those out to pupils who may find themselves in circumstances where they can't afford such an outlay."
The fund also aims to help with tuition fees. It said £170 had already been allocated to help a young boy learn to play guitar at school.