Bus sign problems in Ipswich and Lowestoft to be tackled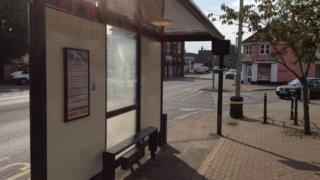 Problems with bus information signs across Suffolk will be solved, according to county transport planners.
The former Labour MP for Waveney called the failure of Lowestoft's £1m real-time passenger information signs a "scandal".
Meanwhile, Ipswich's new signs have yet to be introduced a year after they were supposed to go in.
The county council said it was looking at funding in Lowestoft while Ipswich's signs would be introduced in November.
Lowestoft's 23 electronic real-time information signs were introduced at bus stops five years ago, but the screens have been blank for months.
Bob Blizzard, former Labour MP and current prospective parliamentary candidate for Waveney, said: "You would have thought the county council would have sorted this out before they spent a million pounds of taxpayers' money - that's the scandal."
'Frustrating'
In Ipswich, the information signs were due to be installed last year when the two town centre bus stations were renovated as part of the £21m Travel Ipswich project.
Malcolm Robson, managing director of Ipswich Buses, said: "It is frustrating when systems near us in Colchester have been working for some time and Ipswich seems to have lagged behind."
The Conservative-run council said the bus companies had brought in new vehicles which did not have the software needed for the signs, and the five-year contract with the sign operators had ended.
Graham Newman, councillor with responsibility for transport, said: "We had four-and-a-half good years of operation in Lowestoft and we're looking at a technology that has developed rapidly.
"I'm not saying any waste of money is acceptable, but as we've discovered with equipment and software, sometimes these things don't work out as you planned and specified."
Mr Newman said replacing the signs in Lowestoft would cost £150,000 and the council was looking into getting funding.
He had "every confidence" the signs would be working in Ipswich and their introduction was planned for 15 November.