Bury St Edmunds leisure centre's water flume bought by family for back garden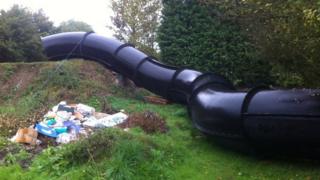 A family has bought a leisure centre's old 130ft (40m) water flume for £50 and installed it in their garden.
Abbeycroft Leisure was replacing the feature at its public pool and sports complex in Bury St Edmunds.
It was sold to the Betts family, who live in Stonham Aspal near Stowmarket.
Rachel Betts said: "We'll use it as a slide, with sacks to make it a bit more slippery, and in the summer we can maybe use a paddling pool and pump to get some water running through."
The plastic tube used to snake down the outside of Bury St Edmunds Leisure Centre on Beetons Way, until it was removed in the summer.
Ms Betts said only a few sections have been put together in the garden so far, but her young son Oscar "loves it".
"We're not sure how just yet, but we want to install a ladder and make it higher.
"It was definitely £50 well spent."
Abbeycroft runs the leisure centre on behalf of the owners St Edmundsbury Borough Council, which said the flume had undergone several repairs and had come to the end of its life.
A council spokesman said: "We are investing approximately £170,000 in a new flume which should be in place by early next year."