Toad survives six months in Asda compost bag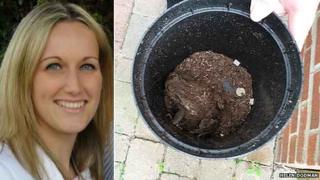 A gardener found a live toad in an unopened bag of supermarket compost she bought six months earlier.
Helen Dodman, who bought the bag at an Asda in Ipswich, said she felt something "squishy" when she eventually opened it and put her trowel inside.
The amphibian was removed and taken to a neighbour's pond.
Suffolk Amphibian and Reptile Group said the toad could survive in moist compost, if insects were able to get in through air holes to provide food.
'Quite a shock'
Ms Dodman, who lives in Ipswich, said the sealed compost bag had been stored in her concrete-floored garage since she bought it.
"I put the trowel in and felt something squishy and it poked its head up through the compost," she said.
"To hit something quite soft was a shock, but I'm not sure if the toad was more shocked than me.
"As a grown woman of 30, I screamed like a five-year-old girl and phoned my mum who came running round and rescued it.
"It's now living in a pond in a neighbour's garden, so he's happy and now I'm happy."
Duncan Sweeting, chairman of the Suffolk Amphibian and Reptile Group, said: "It sounds like the toad must have got in during the bagging process.
"If it's a standard compost bag with air holes in, then earthworms and other invertebrates could get in, but if it was in a domestic garage then it's unlikely worms would have.
"If there was enough moisture, then a toad could survive, but either way it's a very lucky creature."
Ms Dodman said she rang the Whitehouse branch of Asda where she bought the bag and they offered to take the bag and toad back, but she felt it was unnecessary.
An Asda spokesman said: "We were shocked to hear about the appearance of Mr Toad in Ms Dodman's compost bag - this is certainly not in line with our Toad of Practice."