Master plan for 3,500-home Ipswich Garden Suburb backed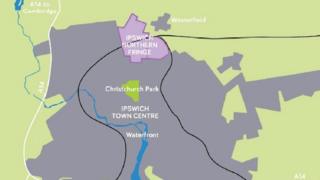 A master plan for the north of Ipswich, which could lead to a 3,500-home development, has been approved by councillors.
Ipswich Borough Council backed proposals for the Ipswich Garden Suburb between the town and Westerfield.
The plan covers 482 acres (195 hectares) including 252 acres (102 hectares) for housing and 60.5 acres (24.5 hectares) for a country park.
Detailed planning applications will now be put forward by developers.
The master plan, which forms the Supplementary Planning Document (SPD), also calls for a wide range of local facilities including shops, schools, allotments, community halls, and health facilities as part of the development.
The proposals, which originally included 4,400 homes, were changed following opposition from the Save Our Country Spaces and Northern Fringe Protection groups which were concerned about development on green field land.
The plan calls for 1,000 of the homes to be build by 2021.
The Labour-controlled council backed the plans on Wednesday night.