Giant gorilla willow sculpture destined for Seychelles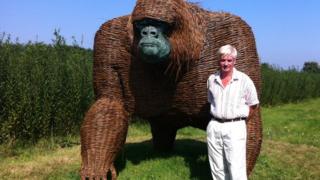 A giant sculpture of a gorilla made by a Suffolk artist is to go on display more than 5,000 miles (8,102km) away.
Sculptor Robert Yates has crafted the 2.5m-high (8.2ft) piece, called King Kong, out of willow and bronze at his studio near Beccles.
The artwork, which features a stainless steel frame and weighs about 300kg (47st), has been commissioned for a new home in the Seychelles.
Mr Yates said he felt a "sense of relief" that the piece was on its way.
The sculpture has taken him three months to complete.
Mr Yates said: "Being made in one piece, the sheer scale of it made it very difficult and without the gantry and hoist I had commissioned for this project, it would have been nigh on impossible."
His wife Susie, who is a ceramic sculptor, made the face in clay before it was cast in bronze.
King Kong, which measures 3m long (9.8ft), has been on show in Mr Yates' willow beds ahead of being sent to the Seychelles, where it will form the centrepiece of a house.
"He's designed to be inside because the sunshine and the rain break the willow down," said Mr Yates.
"It will seem very strange not having him around but it's a sense of relief."