Lovejoy's leather jacket bought at auction for £1,000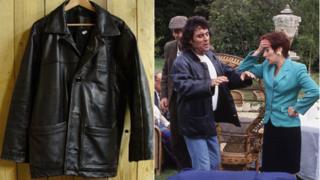 A leather jacket worn by perma-tanned TV antiques dealer Lovejoy has proved a surprise hit at auction.
The black jacket, believed to be one of four similar ones donned by actor Ian McShane in the hit BBC TV series, was on sale with a list price of £600.
But it was snapped up by a local woman for £1,000 at the auction held by Mander in Sudbury, Suffolk.
Auctioneer James Mander said: "There is still a keen local interest as people remember it being filmed here."
Mullet haircut
The television series was mainly shot in villages on the Essex and Suffolk border such as Long Melford and Belchamp Walter. It ran from 1986 to 1994.
As well as the trademark Lovejoy leather, McShane also famously sported a mullet haircut to portray the roguish antiques dealer and part-time detective with an eye for the ladies.
Mr Mander said: "The lady who bought it said it was for her husband, but I suspect it was as much for her.
"Whether the buyer is also going to get a white T-shirt for her hubby, I couldn't say."
The auctioneer said the jacket was sold by somebody who had been an adviser on the show and the successful bidder was from the Ipswich area.
A collection of reference books used by the author Jonathan Gash to write the original Lovejoy books is expected to fetch up to £15,000 when it is auctioned on 16 September in Oxford.