Washbrook pub The Brook bought by villagers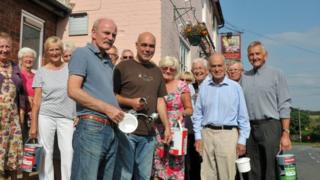 Residents have raised £373,000 to buy the only pub in their Suffolk village amid fears it would close after a national chain put it on the market.
About 90 people have bought shares to raise enough money to buy The Brook at Washbrook, near Ipswich, for £290,000 from Punch Taverns.
The company they formed, Back The Brook Ltd, still has shares for sale to reach its target of £400,000.
It said that would allow it to buy new curtains, carpets and toilets.
Back The Brook Ltd was formed in 2013 by a group of local directors who felt the future of the pub was in doubt after Punch put it on the market.
Keith Armes, one of the directors, said: "People were sceptical that we would be able to raise the money, but it's been a real village effort to save our only pub.
"We were inspired by Sorrel Horse in Shottisham, which villagers there bought using a similar business plan.
"People in Washbrook are volunteering to do some immediate painting, we've got a new manager and chef and will remain open throughout."
Shares were sold for £250 each and the remaining 108 are still available to investors.
The directors said they would be holding a celebration party at the pub on 27 September.