Bungay football crowd doubles with mushrooms 'incentive'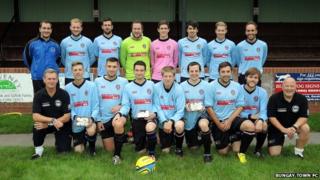 A ploy to encourage more people to attend a Suffolk football match by offering supporters free mushrooms has paid off, a club claims.
About 100 people turned up to watch Anglian Combination Division Two Bungay Town beat Martham 3-2 on Saturday, double the usual match day numbers.
The mushroom punnets were Bungay's attempt to increase spectator numbers as part of Non-League Day.
Bungay's Shaun Cole said: "Some punters were a bit bewildered by their punnet."
Mr Cole, the team's vice-chairman said the idea of giving away free mushrooms was a "Why not?" decision.
'Sold more beer'
The club's former chairman Jon Fuller also happens to be a mushroom farmer, and provided 160 punnets for the match.
Mr Cole said the club had shifted 130 punnets after giving some to the players as well as spectators.
"I even gave the ref some before the game, he said 'I hope this isn't bribery'.
"We've got about 30 punnets left, though, so we'll just divvy them up between us. I could well be eating mushrooms for breakfast, dinner and tea for the days to come."
Mr Cole said the players were delighted with the increased turn-out.
"More people through the gate means we've sold more beer in the clubhouse and to top it all, we've gone top of the league," he added.
Non-League Day day was set up in 2010 as a way of highlighting the importance of affordable volunteer-led community football and encouraging attendance at matches.