Scott Rogers: Suffolk Police abuse inquiry into murdered TV host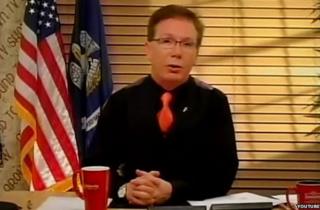 Police in the UK have started an investigation into sex abuse allegations against a murdered US television host, it has been revealed.
Scott Rogers, 52, founder of an academy in Suffolk, was shot at his home in Iberville, Louisiana, last week.
He left the UK in the mid-1990s after founding a dance academy in Bury St Edmunds which was likened to a cult by Suffolk County Council in 1995.
Suffolk Police said it was looking into allegations of abuse by Mr Rogers.
A spokesman said: "Suffolk Police have so far received a handful of calls from people who have made initial allegations that they were sexually abused by him.
"Detectives will make further contact with these individuals in the next few days to ascertain whether they wish to disclose further information.
"There were no UK police investigations ongoing into Scott Rogers prior to his death."
Earlier Tony Clayton, lead US prosecutor, said that the evidence Mr Rogers was a paedophile was "clear and overwhelming".
Mr Rogers, a talkshow host on The Around the Town Show aired by WAFB-TV, was found dead in his bed on 27 August.
His lover Mathew Hodgkinson, who was married to Mr Rogers' daughter, is thought to have shot him in a "murder and attempted suicide".
Mr Hodgkinson, 36, is in a critical condition in hospital.
Computers and mobile phones have been seized from Mr Rogers' house as part of the investigation into his death.
Mr Rogers was shot on the day he was due to appear before a grand jury over allegations he falsified documents in fostering children.
It is alleged he failed to declare the fact he had previously been arrested in the UK over offences of which he was later cleared.