Ipswich house with resting pig is sold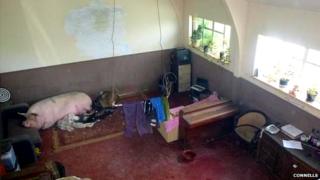 A photo of a pig resting in the living room has not put off potential buyers of a one-bedroom house in Ipswich.
The animal, a pet of the current owner, was pictured resting its head on a sofa in the brochure for the property off Britannia Road.
It proved popular on social media sites, with some people asking whether the pig was included in the sale.
Estate agents Keystone said the house sold for more than the asking price of £100,000.
Jonathan Webb, director of Keystone, said his firm started advertising the house in mid-August and sold the house within 10 days.
He said: "We went with the strategy of not showing Pog in the pictures.
"The vendor's very happy and Pog's off to pastures new."
Estate agents Connells said the photo including the pig was put up on its website "in error and has since been removed". The house was up for sale with several estate agents.