ARP Farms and Eric Moss admit cattle offences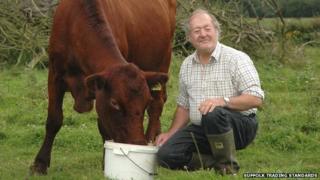 A Suffolk farmer has pleaded guilty to livestock regulation offences after cattle were found decomposing on his land.
Inspectors found the corpses at Botany Farm, Farnham, during two visits last year, Ipswich Crown Court heard.
Eric Moss, 72, of Botany Farm at Farnham, admitted ten offences under animal by-products and cattle identification laws.
Moss and his company ARP Farms are due to be sentenced on 9 October.
The prosecution followed an investigation and visits by Suffolk County Council Trading Standards and the Animal Health and Veterinary Laboratories Agency.
Trading Standards said the carcasses had not been stored or disposed of in line with legislation aimed at preventing the spread of diseases.
The charges included failing to keep correct identification for animals and failing to notify the authorities about the death of animals or record a death in an animal passport.
Colin Spence, county councillor for public protection, said Moss's behaviour had been "totally unacceptable".
"Farmers play a vital part in helping to prevent and report diseases when they occur as well as stopping them from spreading."
In 2013, Moss was fined for keeping unregistered cattle.