Scott Rogers: Shot TV host faced grand jury appearance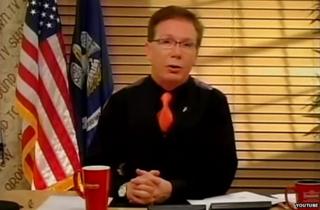 A British man shot dead in the United States was due to appear before a grand jury on the day he was killed.
Scott Rogers, a US talkshow host and former UK dance teacher, was found dead at his home in Louisiana last week.
Police said Mr Rogers was thought to have been shot by son-in-law and ex-lover Mathew Hodgkinson. Mr Hodgkinson, 36, then shot himself, police believe.
Mr Rogers, 52, left the UK in the mid-1990s after an arts academy he founded in Suffolk was likened to a "cult".
Brett Stassi, Iberville Parish sheriff, said police recently became aware of Mr Rogers' past, including the fact he had been cleared of offences against a boy in the UK.
'Wire fraud'
Mr Rogers is thought to have used "false" information by not declaring the fact he had been arrested when applying to become a foster parent in the US.
"After all this information about what happened in the UK came out, they might have used false names when he applied for the foster children; a false name on the adoption would come up as wire fraud and mail fraud," said Mr Stassi.
American authorities removed two children from the Rogers family home in Iberville - where Mr Hodgkinson also lived - about two weeks before the shooting.
A case had been due to be heard before a grand jury on the day of Mr Rogers' murder, the sheriff said.
Mr Hodgkinson, who was married to Mr Rogers' daughter Kimmy, joined Mr Rogers in America to work as a producer on the Around Town Show aired by WAFB-TV.
The producer was a former student of Mr Rogers at the 52-year-old's dance and arts academy in Bury St Edmunds.
'Tightening noose'
After the shooting last Wednesday, a note was found next to the bed in which Mr Rogers was killed, which read: "They broke our happy, loving home. They do not get to take Scott as well."
Police believe the note was penned by Mr Hodgkinson, who remains in the Our Lady of the Lake University hospital in a critical condition after apparently turning the gun on himself.
Forensic tests are being carried out on the note.
Police have also been granted a warrant to seize security footage, computers and mobile phones belonging to Mr Rogers.
Since his death, two British men have come forward to claim they were abused by Mr Rogers.
Mr Stassi said his officers were aware of the allegations.
"As the noose started tightening the layers of the onion started peeling away, exposing him to what happened in the UK - it brought to light more to this man," said Mr Stassi.
"You've got to understand this man, over here, people had given him badges and awards, he worked as a chaplain for a sheriff's department, he was the 'in crowd' type guy.
"I've said before he was hiding in plain view - he wasn't behind the camera he was in front of it.
"Wednesday afternoon is when this was all going to be out of the bag at the grand jury."
'Too many sleeping pills'
Days before the shooting Sheriff Stassi said his deputies were called to Mr Rogers' home over concerns of an "attempted suicide".
He told the BBC: "The week before the shooting we got a call from Mathew that Scott may have taken too many sleeping pills - a possible suicide attempt.
"When my deputy got to Scott he jumped up and said he'd taken a couple of extra pills as he was having trouble sleeping."
In 1995, BBC Look East reported that Suffolk County Council had "taken the unusual step" of issuing a warning to parents about the Academy of Dance and Performing Arts in Bury St Edmunds.
There were claims of an "unhealthy atmosphere" similar to "a religious or supposedly religious cult" at the school founded by Mr Rogers, the East Anglian Daily Times has reported.