Scott Rogers: US TV host and ex-Suffolk teacher shot dead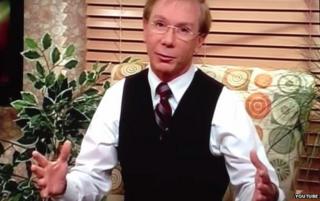 A US television host and former Suffolk dance school teacher was shot dead by his son-in-law at his home in Louisiana, police have said.
Scott Rogers, 52, a presenter for WAFB-TV, was found in Iberville, near Baton Rouge, on Wednesday, local police said.
Sheriff Brett Stassi said it was thought Mr Rogers was shot by Mathew Hodgkinson, also his former lover, in a "murder and attempted suicide".
Mr Hodgkinson, 36, is in a coma in a US hospital, said Mr Stassi.
'Gun to his head'
Mr Stassi, the sheriff of police in Iberville, told the BBC: "It looked like a murder and failed attempted suicide. Scott was shot in his bed, under the covers, tucked neatly in.
"It looks like Mathew put the gun to his own head... he was seriously wounded but still alive.
"He's still in a critical condition in an induced coma."
Mr Stassi said his deputy found a note next to the bed.
"We think Mathew wrote it and maybe even put it there after Scott was deceased," he said.
'Unhealthy atmosphere'
Mr Hodgkinson, who was married to Mr Rogers' daughter Kimmy, joined Mr Rogers in America to work as a producer on the Around Town Show aired by WAFB-TV.
In 1995, BBC Look East reported that Suffolk County Council had "taken the unusual step" of issuing a warning to parents about the Academy of Dance and Performing Arts in Bury St Edmunds.
There were claims of an "unhealthy atmosphere" similar to "a religious or supposedly religious cult" at the school founded by Mr Rogers, the East Anglian Daily Times has reported.
Mr Rogers was known as Richard Scott Rogers in the UK.
Mr Hodgkinson, a former pupil of the dance academy, was also known as Mathew Hodgkins.
Mr Stassi said witness statements suggested Mr Hodgkinson was both Mr Rogers' son-in-law and former lover and lived at the Rogers property.