Greater Anglia railway disruption: Ipswich track work will go ahead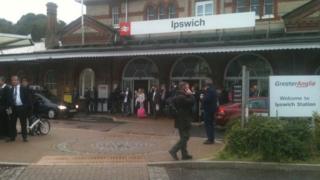 Work on the railway at Ipswich will go ahead this weekend, despite a rethink after a day of train cancellations after last weekend's work over-ran.
Network Rail will be running replacement bus services between Ipswich and Manningtree, Stowmarket, Felixstowe and Woodbridge on Sunday.
The company said it would only carry out work which could be halted, so that Monday train services were unaffected.
It follows calls for resignations after Tuesday's disruption.
Network Rail has been installing new signalling as part of a £25m upgrade and said last week's over-running works were due to problems merging new equipment with old equipment.
Work can be 'dropped'
It caused cancellations on the main line between Norwich and London and on lines from Ipswich to Felixstowe, Lowestoft and Cambridge.
Ipswich MP Ben Gummer said "heads should roll" as a result of the latest disruption.
The rail company had originally planned more engineering work for Sunday, 31 August and Sunday, 7 August, but had been considering whether to press ahead on those dates as it was "completely rethinking" how it carried out the work in the light of the latest problems.
It said a new team was being brought in to oversee the work on the ground this weekend.
Steve Cassidy, Network Rail area director, said: "Passengers suffered as a result of our mistake and I'd like to again apologise to all those affected by Tuesday's engineering overrun.
"All the work carried out on this coming Sunday can be dropped [if it's not finished] and it will not affect passengers on Monday morning."