Beyton geese: Village to look at play area waste issue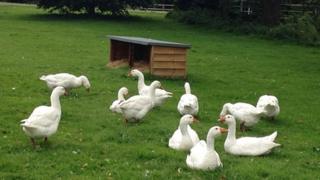 A village, which voted to restore geese to its green, is now having to deal with complaints about faeces around the play area.
Three quarters of villagers in Beyton, in Suffolk, voted in favour of the birds' return after the population dropped from 30 to just one last year.
Numbers have risen to 15, but so have concerns about mess.
The council said its options included fencing off the play area or buying specialist kit which clears it.
Emden geese, which are domesticated farm birds rather than a wild species, have lived freely on the green for about 40 years and they feature on the village sign.
Numbers declined due to a combination of old age, car accidents and a dog attack.
'Odd complaint'
The parish council, which has responsibility for the geese, said some parents were worried about the amount of faeces where their children play.
Councillor Ellen Kirkby said: "[The return] has been very successful and the geese are happy, but we're getting the odd complaint.
"Our options include fencing-off the children's play area or buying a piece of equipment which attaches to a sit-on mower which can apparently clear up the goose waste.
"The vast majority of the village voted to have the goose population restored and we have no plans to get rid of them."
The council said one villager had also complained to the RSPCA about the rise in goose numbers.
A spokesman for the animal charity and inspector visited Beyton and had no welfare concerns, but the council was advised about its responsibilities for the geese under the Animal Welfare Act.
The parish council is due to meet on 8 September to address the issue of goose waste.