Ipswich woman tracks 75 years of living in same house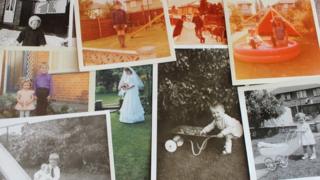 From art deco and Bakelite, through to groovy wallpaper and shag pile, ending up in the age of flat-screen televisions and wi-fi. Not many of us end up observing the decades' changing fashions so acutely inside our homes.
But Beryl Willson has lived in her house for 75 years.
Her parents bought the three-bedroom, semi-detached property in Ipswich for £375 in 1939, the day before World War Two broke out.
Mrs Willson, now 79, was aged four at the time.
She remembers an air raid shelter in the back garden and distemper on the walls.
"People didn't have as much money to spare back then. We didn't have particularly modern furniture, or a three-piece suite," she said.
"Wallpaper was very expensive, and you couldn't get it in war time."
Fast-forward to 1961, when Mrs Willson and her husband John paid £2,000 to buy the 1935 property from her parents, who moved to a bungalow round the corner.
Her daughter Roz Pryke, who was born in the house, remembers lino and rugs being used in many of its rooms and a sunken garden with a rockery at the front.
She now lives just around the corner and visits often with her two children.
"The house has just seen so many changes and it's always been the constant you come back to," she said.
"I can't imagine, in the future, driving down this road and this house not being connected to my family.
"Whether that will happen, who knows.
"It's a house, but it's a home too. It's like a member of the family because it's always been here," she said.
---
Ipswich in 1939:
•January 1939 saw the town hit by widespread flooding after the mass thawing of snow. British Pathe footage shows water flowing from the road back into the river.
•In the same month, Ipswich Town drew their third round tie of the FA Cup against First Division Aston Villa, but lost the replay 1-2. An attendance of 28,194 fans at Portman Road for the replay was its highest for decades, according to The Guardian.
•The day Mrs Willson moved into her house Britain was preparing for war and it was declared just 24 hours later. Blackouts were occurring and London Zoo destroyed all its poisonous insects and snakes to stop them escaping during potential air raids.
---
Mrs Willson shares her daughter's views - and said although friends tell her they could not contemplate living in one house for so long, she has been very "content and happy" there.
Before her husband died earlier this year, she told him not to worry about her future.
"I said to my husband, 'I love this home and as long as I'm able, I'll stay here'. We have never wanted to move from this house.
"I'd hope one day in the future, perhaps one of the family would continue to make this their home."
Despite being equipped with most other modern conveniences, the house still lacks central heating.
"When I was expecting my son in 1964, I left work and drew out my superannuation, which was £183. For that, we could have had central heating put in, or a new piano," said Mrs Willson.
"My husband was musical and we only had an old piano. The piano won.
"We still haven't got central heating, but it's a lovely warm house, well insulated. It's been a warm house as much as a happy one," she said.