Suffolk Gypsy and traveller sites consultation stopped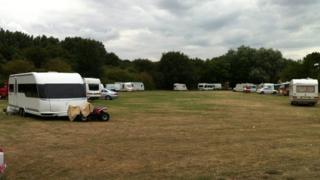 Suffolk's public authorities have abandoned a public consultation into creating short-stay sites for Gypsies.
Seven locations across the county were proposed earlier this month with three due to be chosen, but the whole plan has now been dropped.
The county council said it was because "a number of landowners" had come forward with alternative sites.
The National Travellers Action Group, which worked with the councils, said it was optimistic sites would be built.
The sites were proposed by the county and district councils, along with Suffolk's Police and Crime Commissioner, and the consultation was due to close on 1 October.
Mark Bee, Conservative leader of the county council, said: "The case for creating short-stay stopping sites has been well established, but what's more important is making sure we have the right sites to consult the public on.
"A number of alternative proposals have been put forward and, in the interest of making the best decisions for Suffolk, they need to be looked at."
---
Sites proposed, but now dropped:
Layby off A143 opposite Shepherds Lane, Wortham
Land between Candlet Road and Treetops, Felixstowe
Layby on Felixstowe Road, Levington
Former Little Chef site, Kentford, off A14
Former Chippings Dump, Upthorpe Road, Stanton
Former Little Chef site, off A14, Ipswich
A140 junction with Castleton Way, Eye
---
Cliff Codona, chairman of the National Travellers Action Group, said: "This is the problem we always face - it just goes round and round the mulberry bush.
"You have to be optimistic when councils say they are willing to go forward with it, but it would be horrible if we get to the end of this process and find out it was just a PR stunt."
Suffolk's local authorities said a new consultation would take place on the proposed alternative sites, but no date had been set yet.