Felixstowe landslip means Philip Avenue housing may be demolished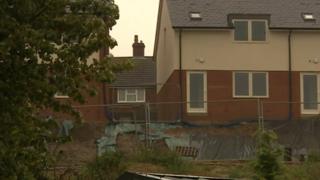 A new development of social housing has been halted and may have to be demolished after a landslip.
Orwell Housing was building ten homes in Felixstowe in Suffolk, but work stopped after the ground behind them fell away.
Its insurer is evaluating the cost of stabilising the ground.
Orwell said if it was too expensive to shore up the ground with sheet pilings, then the homes, which had a budget of £1.3m, may have to be pulled down.
Construction started in June 2013, but it was halted four months ago.
'Demolishing situation'
People who live in the area said they had warned the housing association the site was not suitable.
Resident Tricia Anderson said: "The ground is old marsh with underwater streams and we were concerned about them building on it, because we didn't think it was stable enough for houses.
"They should have listened to us, because local residents know best."
Two footpaths at the bottom of the slope have also been shut and a caravan park off Walton Avenue had to move two of its caravans away from the landslip.
Chris Wyer, spokesman for Orwell, said it was "extremely frustrating".
"We took advice from ground condition reports and structural engineers which all came back that the site was okay to build on - it's the professional advice we would rely on," he said.
"We want to resolve it as quickly as possible and get the homes finished.
"It will depend on the costs of stabilising the site compared to a demolishing situation."