Greater Anglia train disruption: Network Rail reconsiders engineering work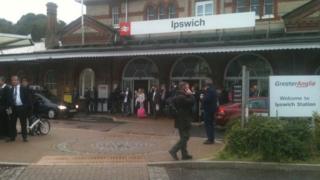 Network Rail has said it is reconsidering planned engineering work in Suffolk after last weekend's works overran, causing disruption to services between London and Norwich.
The Ipswich MP Ben Gummer called for resignations after mainline trains were cancelled throughout Monday morning.
Lines through Ipswich were due to be closed again for the next two Sundays.
Network Rail said a decision on whether work would still take place would be made this week.
The railway infrastructure company has been replacing 40-year-old tracks, which are used by the train operator Abellio Greater Anglia.
Network Rail said although Norwich to London trains had been running normally since late Monday morning, there were still knock-on effects on Tuesday between Ipswich and Felixstowe; Ipswich and Lowestoft; and Sudbury and Marks Tey.
---
Disruption after engineering work
26 August 2014 - work at Ipswich overruns by seven hours
11 August 2014 - work at Ipswich overruns by two hours
19 May 2014 - work at Colchester overruns causing delays
5 March 2014 - work at Diss causes delays to London
17 February 2013 - work at Shenfield causes delays
14 January 2013 - delays between Shenfield and London
30 March 2012 - overhead cable work at Stratford meant trains unable to reach Liverpool Street
4 January 2010 - overrunning work at Stratford causes delays
28 March 2008 - delays at Shenfield
2 January 2008 - several days of disruption at Liverpool Street
---
Railway lines through Ipswich were due to be closed again on Sunday, 31 August and Sunday, 7 September with buses replacing trains between Manningtree and Stowmarket as well as between Ipswich and Felixstowe and between Ipswich and Woodbridge on the East Suffolk Line.
Steven Cassidy, area director for Network Rail, said: "We're still carrying out reviews of [last] weekend and looking at the rest of the work to be carried out in Ipswich and the contingencies involved if it doesn't go to plan.
"It's still not acceptable and we are dealing with 30-40 year old equipment and unfortunately we found issues that were unexpected.
"We've done a lot of the intrusive work so in terms of the high-risk work, we've got less of it to do."