Lowestoft beach seawall repairs to begin next month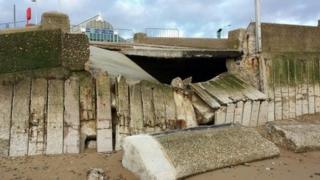 Repairs are due to get under way to a beach seawall that was damaged during last year's storm surge.
The Environment Agency money will be used to restore defences on the south beach in Lowestoft, Suffolk.
The beach will be closed between the harbour and Claremont Pier for about eight weeks from 8 September.
A groyne will be replaced by steel sheeting and rocks will be used to form a protective slope on the beach, the agency said.
The beach will be excavated to create a temporary access road for the large vehicles involved in the project.
It is the first phase of works to improve sea defences costing a total of £1.5m.