One Direction and Justin Bieber fake goods seller jailed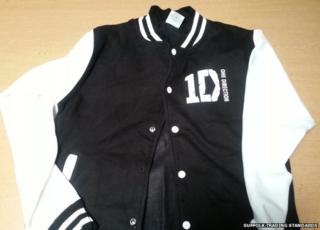 A fraudster who sold counterfeit One Direction, Justin Bieber and JLS merchandise has been jailed for a year.
John Young, 53, of Hulver near Beccles, made more than £220,000 selling fake clothing, Ipswich Crown Court heard.
Suffolk Trading Standards investigated after a complaint from someone who bought pirated JLS clothing on eBay.
Young admitted 13 charges of fraud and breaching trading regulations but pleaded not guilty to four others which the court said would be kept on file.
Trading Standards said it made a test purchase on the online auction site after the original complaint in 2012.
Officers said they found a "significant number of sales" being made after investigating eBay and PayPal accounts.
Nousha Meek, senior trading standards officer, said: "This case should act as a stark warning to other rogue businesses and individuals selling through eBay or other online methods.
"Counterfeit goods undermine legitimate businesses and their sale will not be tolerated in Suffolk."
Trading Standards said it would be pursuing a Proceeds of Crime Act case to try and recover some of the money made by Young.