Suffolk's new Gypsy and traveller sites identified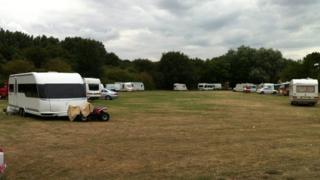 Suffolk's public authorities have identified seven possible locations for the creation of three new short-stay sites for Gypsies and travellers.
Suffolk County Council said it was a response to 210 unauthorised encampments being set up since 2007.
The proposed sites are in or near Felixstowe, Ipswich, Kentford, Wortham, Stanton and Eye.
The National Travellers Action Group welcomed the proposals for the county's first transit sites.
Suffolk has no official short-stay sites, for travellers to visit for up to three months.
The proposals have been made jointly by the county council, the seven district councils and Suffolk's police and crime commissioner (PCC).
---
Sites proposed by Suffolk's councils and PCC
Layby off A143 opposite Shepherds Lane, Wortham
Land between Candlet Road and Treetops, Felixstowe
Layby on Felixstowe Road, Levington, south of junction with Bridge Road
Former Little Chef site, Kentford, off A14
Former Chippings Dump, Upthorpe Road, Stanton
Former Little Chef site, off A14 by the Orwell Bridge, Ipswich
A140 junction with Castleton Way, Eye
---
Mark Bee, Conservative leader of the county council, said: "Unauthorised encampments can have an enormous impact: not only can they cause tensions, but they also use valuable public resources and can have an impact on our economy.
"Introducing three short-stay stopping sites will save taxpayers money, help meet the needs of Gypsies and travellers moving through the county and reduce unauthorised encampments."
Cliff Codona, chairman of the National Travellers Action Group, said: "We estimate that there some 1000 Gypsies and travellers in Suffolk, many of whom are good citizens living in houses, paying their taxes and sending their children to local schools.
"But those that want to travel struggle to find legal, legitimate and safe places to stop, which is why short-stay sites are needed."
The sites in Suffolk would have about eight pitches each and travellers would have to pay rent.
Suffolk County Council said a public consultation would close on 1 October and any future developments would go through the normal district council planning process.