Suffolk Police want 20 special constables with horses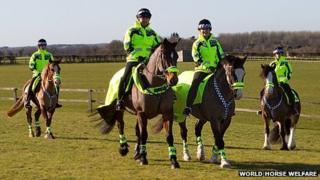 Horse owners are being targeted by Suffolk Police who who want to recruit 20 of them as special constables.
The force wants the volunteer officers to use their own horses and local knowledge to patrol rural areas.
Police and crime commissioner (PCC) Tim Passmore said it would reassure people and they could deal with crimes such as hare-coursing and fly-tipping.
He said an announcement could be made in the autumn with finance found from existing special constable budgets.
"The horses would be owned by the people we recruit and we're looking at what support and allowances we could provide for them," he said.
'No political gimmick'
Tim Woodward, regional surveyor for the Country Land and Business Association, said: "Rural areas represent a great opportunity for criminals because of isolated houses, buildings, not much lighting or many witnesses, so the more police presence we can have, we would welcome.
"It would be great to get more special constables into villages and rural towns."
Mick Richardson, general secretary of the Police Federation in Suffolk, said: "I don't think it's a political gimmick as it has been tried elsewhere, so let's give it a go and see what happens.
"If you have specials on horseback in country lanes and it improves visibility and confidence in the local community, then that's good.
"I don't think they they would be used in public order situations, because those horses are very highly trained."
Earlier this year it was suggested 250 front line police jobs could go in the county over the nxt four years, though Mr Passmore denied this.