Lowestoft crash: 'Flying bricks and glass' miss pregnant mother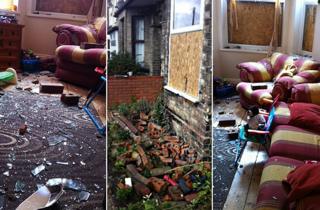 A pregnant woman narrowly escaped injury when a car crashed into a wall outside her home, throwing glass and bricks through her living room window.
Laura Wilson was asleep on the sofa of her St Peter's Street home, Lowestoft, when the crash happened in the early hours of Thursday.
The building materials and parts of the car missed Mrs Wilson by 12in (30cm).
It was the third crash on the road in three weeks. Those in the car, who were unhurt, were not charged, police said.
Mrs Wilson's husband James, said: "Can you imagine how fast that car was going, the bricks have come through the double glazing.
"She thought somebody had put a brick through the window, or perhaps somebody was trying to get in - but then she realised what had happened.
"[Laura] just found shard of glass in her hair, our three year old slept through it."
The couple are now calling for urgent road safety improvements to the street.
"Something has got to be done, lots of children use the road and we don't now feel safe in our front room," said Mr Wilson.
"We'll probably start a petition or something - if we don't maybe nobody will and then it'll be too late."