Suffolk PCC's building sell-off plan 'will raise £2m'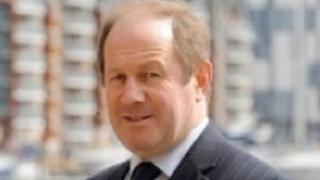 A £200,000 overspend on empty buildings will be offset by a £2m sell-off plan, Suffolk's Police and Crime Commissioner claims.
Tim Passmore said he was pushing ahead with the sale of redundant police stations and the sharing of facilities with the fire service.
The budget overspend was not "totally unexpected" and was due to delays in selling some of the buildings, he said.
Mr Passmore said he was attempting to achieve maximum value for the sites.
He said the station at Beech Terrace, Stowmarket, was being sold for £377,000.
The sale of Woodbridge Police Station, which is valued at about £730,000, is due to be completed by March and the force will relocate to the Safer Neighbourhood Team at Woodbridge Fire Station.
Ipswich Police Station is being sold for £850,000 and the force has moved to a smaller building in the city's Museum Street.
Mr Passmore said: "The overspend is not totally unexpected. I think by the end of the year we will have recovered recovered the position. Ideally we will have sold the Ipswich Police Station.
"The replacement police station repairs took a lot longer then had been planned for."
'Empty space'
Mr Passmore said the sale of the station at Beech Terrace in Stowmarket, vacant since October 2012, had been delayed through work to maximise the value by getting planning permission for residential redevelopment.
"When I was elected we had a lot of empty space because with new custody suites meant a lot of our police stations were far bigger [because they included cells] than was needed," he said.
Mr Passmore said police were not moving out of towns but instead using shared facilities with other emergency services to save money.
It shares buildings with the fire service in Framlingham, Ixworth, Elmswell and Debenham.