Pakefield Tramway Tesco: Supermarket considers next move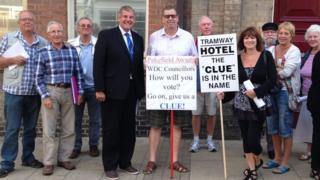 Tesco has said it will consider its options after suffering a setback in its plans to convert a hotel and pub into a store.
Waveney District Council voted eight to five in favour of certifying the Tramway Hotel in Pakefield, Suffolk, as a pub and hotel rather than just a pub.
It means Tesco will need to put in a full change of use planning application or seek a judicial review.
A Tesco spokesman said: "We will have a review and think what to do next."
He added there would be "no fixed timescale" on making a decision.
The supermarket wants to turn the building into an Express store and has said it could create about 20 jobs.
Campaigners have said local shops could suffer a drop in trade and traffic problems could be caused if the redevelopment went ahead.
Tesco said in a statement: "We remain confident that our store would be popular with customers as it would offer a wide range of products in a convenient location.
"We'll be sure to keep the local community updated on our plans".
Bob Blizzard, Labour's prospective Parliamentary candidate for Waveney and chairman of Pakefield Opposing Tesco, said the group had put forward a "whole raft of evidence" that the Tramway was of mixed use.
"The evidence was conclusive and what we've achieved is justice," he said.
"The ball is now in Tesco's court."
Tesco, which was not at the Lowestoft Town Hall meeting on Tuesday, had argued the building was a pub and the accommodation was an ancillary part of the business.