Wyverstone gun haul: Suffolk police set for £160k overtime bill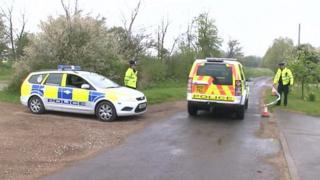 Police are expecting an overtime bill of £160,000 after an arsenal of weapons was found at the home of a councillor who later died.
In April, Suffolk police found weapons including an AK-47 and an Uzi sub-machine gun at the home of James Arnold, at Wyverstone.
In July, Mr Arnold - former chairman of the local parish council - died while on remand. He had terminal cancer.
Police say safely recovering the weapons took staff four weeks.
The case against the 49-year-old Mr Arnold, who had been due to enter pleas at Ipswich Crown Court, was discontinued.
However, the police investigation into the arms haul continues.
The anticipated overtime expenditure is highlighted in a financial monitoring report for the county's police and crime commissioner.
A spokeswoman for the police said: "In order to recover all weapons, gather evidence and ensure public safety whilst all weapons were recovered specialist trained search officers remained at the address for approximately four weeks together with officers on scene management.
"The overtime spend for this period was approximately £160,000."
It is understood the number of weapons seized by police ran into three figures.
A vast amount of ammunition was also found.
A 63-year-old man from Norfolk, arrested on 16 July on suspicion of selling or transferring a firearm to a person without a certificate, has been bailed until 27 August.