People asked to stop donating to Ipswich beggars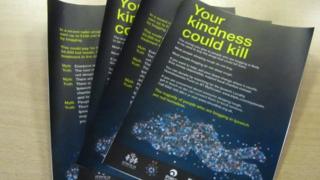 People are being asked not to give food, hot drinks or money to beggars in Ipswich as their "kindness could kill".
The Ipswich Locality Homelessness Partnership, which includes Suffolk Police and local councils, says offering food leaves beggars with more money to buy drugs and alcohol.
It said the aim of its leaflet was to help people seek out agencies which could support them.
The advice follows calls for shops to stop selling super-strength alcohol.
The partnership, which also includes drugs, advice and housing charities, said in December 2013, there were 27 persistent beggars in Ipswich but this number had halved.
Paul Clement, chief executive of Ipswich Central, which represents town centre shops and businesses, said: "It has to be a hard-hitting leaflet, rather than a softly-softly approach.
"If you're trying to run a retail unit, the last thing you want is someone sheltering outside your door, rattling a can and trying to convince your customers to give them your money before they've even crossed the threshold.
"Ultimately, if you and I stop giving money to beggars, it will stop overnight."
Roger Fern, chairman of the partnership said: "One needs to recognise that by buying someone a coffee or food, they will have more cash left to buy drugs or cheap, strong alcohol, and will feel less need to seek help.
"All we're saying is there are better ways of helping people who, for one reason or another, are begging.
"There is emergency accommodation, food and advice available, so no-one needs to be hungry or homeless or rough-sleeping."
The partnership recommends people donate money or volunteer for charities working with homeless people. rather than donate money to beggars,