Elena Baltacha's nephew completes hospice bike ride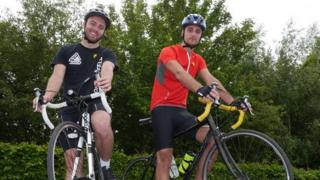 Elena Baltacha's nephew has finished a 600 mile (965km) bicycle ride in memory of the former British number one tennis player, who died from cancer in May.
Josh Sheppard, 24, has cycled from Ipswich to Berlin with his friend Sean Bloomfield, 24.
They were raising money for St Elizabeth Hospice which looked after Elena, who was 30, in her final weeks.
Mr Sheppard said: "She was such a wonderful woman and we just wanted to make her proud."
Baltacha revealed she had liver cancer in March, having retired from competitive tennis in November to concentrate on running her EBAT tennis academy in Ipswich.
Her funeral was held in the Suffolk town in May, attended by a host of prominent names from British tennis.
'Underestimated'
The cyclists left Ipswich on Sunday 27 July, took the ferry from Harwich and then cycled across The Netherlands and Germany to arrive at Alexanderplatz in the German capital eight days later, at 15:00 local time on Monday.
"We're not seasoned cyclists and we underestimated how tough it would be, but we spurred each other on and we're both impressed with ourselves," said Mr Sheppard, who is a glazier.
"It was raining when we got off the boat at the Hook of Holland and we wondered what had we let ourselves in for, but the weather cleared up the day after and it's been sunny since.
"It was a very tiring and it was quite emotional cycling into Berlin and realising what we'd actually achieved."
The pair have raised more than £2,000 for the Ipswich hospice and said they wanted to highlight its work supporting people in their homes.
They said some people had asked if they were cycling home, but that was never their plan.
Mr Sheppard said: "We're flying - I don't think our bodies are capable of cycling back."