Lowestoft 88-year-old man mugged at graveside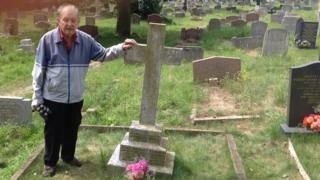 An 88-year-old man has been hit with a bottle and mugged while tending some of his family's graves in a churchyard.
John Turner had his wallet stolen in the attack at St Margaret's Church in Hollingsworth Road, Lowestoft, Suffolk on Thursday afternoon.
He said: "I was kneeling down, clearing the grass out, and I felt a thump and thought the cross had fallen on top of me."
Police have charged a 44-year-old man with robbery.
'Bit of a rotter'
Mr Turner said: "I was dazed and there was glass everywhere.
"I got up and someone was there trying to get the wallet out of my back pocket and they ran off up the path with it.
"If it had been on the top of my head, it might have broken my skull.
"I think [whoever did it] is a bit of a rotter and I hope he gets put away."
Mr Turner, a retired accountant, had been tending the graves of his parents and grandparents.
He was taken to the James Paget Hospital in Gorleston to have a bump on his head checked out, and later discharged.
His brother Robin, 79, said: "He's quite shaken and it's shocking that someone can get attacked while tending a family grave - they're not going to get a lot of money.
"I can't believe he wasn't cut having since seen the glass left at the grave."
Police said the 44-year-old man had also been charged with theft from a shop.