BT Adastral Park homes: Martlesham protesters mount court appeal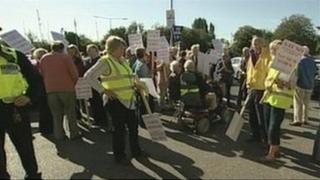 Anti-housing campaigners on the Suffolk coast have won the right to have their case heard in court again.
The No Adastral New Town (Nant) group wants to stop 2,000 homes being built on BT's land at Martlesham.
Earlier this year, the High Court dismissed their legal action, but they have now been told the case will be heard at the Court of Appeal.
Suffolk Coastal District Council, the local planning authority, said it was "disappointed".
The council's local plan had been approved by the government's planning inspector last year.
'Clear-cut decision'
Nant claims the development near Ipswich is too large for the Deben Estuary which has Area of Outstanding Natural Beauty status.
Janet Elliot, from Nant, said: "It's unfortunate it's going to have to go this far, but the issues we've raised have got sufficient merit to justify examination by the three senior judges in the Court of Appeal.
"The council had a whole range of different options, but the Adastral Park site is within metres of the special protection area of the Deben Estuary and this factor wasn't fully taken into account when they made their decision."
Councillor Geoff Holdcroft, who has responsibility for planning at the Conservative-run council, said: "I am really disappointed as we had a very clear-cut decision earlier this year.
"It may be unpopular with a handful of people, but these 2,000 homes have a full complement of affordable housing included and this is a great opportunity to provide homes for young people.
"We have tried at every turn to look at all the options, but this site is really good in terms of the infrastructure we can build and it's close to existing transport links and schools."
Nant said it did not expect the case to be heard by the Court of Appeal until next year.