Suffolk Wildlife Trust wants to turn Leavenheath land into common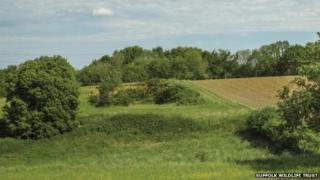 A campaign has been launched to raise £110,000 to buy 76 acres of Suffolk countryside and allow it to revert to 18th Century rough, furzy common.
The land lies alongside Arger Fen and Spouse's Vale, which the Suffolk Wildlife Trust describes as "one of the best bluebell woods in the county".
The trust said it hoped to help nature by buying the Leavenheath land.
"We need to think more creatively to seek new opportunities for wildlife on marginal farmland like this," it said.
"The 1783 map of Suffolk shows a scattering of rough, furzy commons across the south of the county, from Sudbury to Nayland," its website said.
"Over the centuries, these have all but disappeared, marked only by the village names and clumps of bracken and gorse on roadside verges and field edges."
Benefits wildlife
The land at Leavenheath was once part of a large common.
"These places, where rough grassland and bramble blend in to scrub and woodland, are rich in insects, birds and reptiles.
"By letting nature take the lead we will encourage transformation," the trust said
Conservation advisors are working with local landowners to ensure the reserve is linked to surrounding ancient woodlands, hedges and grassland used by dormice and reptiles.
"Transforming isolated nature reserves into joined up landscapes means future-looking land purchased like this will do even more for wildlife," the trust said.