Neknominate man fined for swallowing goldfish on film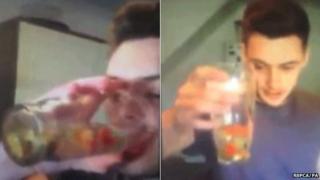 A 20-year-old man from Suffolk has been fined £200 after he was filmed swallowing two goldfish as part of a 'Neknominate' online dare.
Jack Blowers, from Lowestoft, admitted failing to protect the fish, which are alive, from suffering.
Lowestoft magistrates also ordered him to pay £600 in costs following the RSPCA prosecution.
Blowers, who uploaded the film on Facebook, said: "It was a stupid prank which has cost me a lot of money."
The court heard Blowers bought the fish at a local shop in February and drank them from a pint glass which also contained fish food and gravel.
'Flippant bet'
His friend, Joseph Meikle, 20, also from Lowestoft, filmed it and he later accepted a caution.
Neknominate is a craze where someone carries out a 'dare' and then nominates another person to carry out another challenge.
Blowers said: "I won't do it again but my family are glad I didn't do it with alcohol."
His lawyer Richard Mann said: "He knew that we all eat fish, we boil lobsters alive and things like that.
"Looking into the law, if he had done this with an octopus or something without vertebrae, this would not have been an illegal act."
Speaking after the hearing Ben Kirby, RSPCA inspector, said: "There was a very deliberate decision to go out and buy fish in order to outdo the person who nominated them in a drinking game.
"It is simply not acceptable to treat an animal in this callous way, purely for amusement as part of a flippant bet, with no regard whatsoever for their wellbeing."
The court heard Blowers regurgitated the fish and then took them to his grandmother's house where he put them in her fish bowl and they were still alive.
Chair of the bench, Philip Key, told him: "We believe this was cruel, reckless and stupid."