Development hope for £195k Shotley Gate pier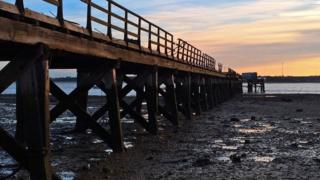 A parish council has said it would back the redevelopment of a derelict 600ft (180m) Victorian pier in Suffolk after it was put up for sale for £195,000.
The Bristol Pier at Shotley Gate was built in 1894 and has planning permission for two food kiosks at its entrance.
It has views of Harwich and Felixstowe and has been closed for several years.
Shotley Parish Council said the pier was in a "quite a state" and would need significant investment.
Dina Bedwell, clerk of Shotley Parish Council, said: "We've had a huge project to develop the sea defences and create footpaths and a picnic area, so any development of the pier is to be welcomed.
"It's in quite a state, so it would need a lot of money spent on it.
"If it's properly developed, investors should be able to make a return as Shotley will grow when 285 homes are built at the former HMS Ganges site."
The East Anglian Group is selling the pier, which it bought two years ago.
It is 10ft (3m) wide, but it has a 40ft (12m)-wide platform at the end which has two fishermen's huts on it.