Suffolk Police job cuts 'may be necessary', inspectors say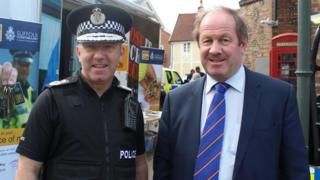 Police job cuts "may be necessary" in Suffolk following a decision not to merge its force control room with Norfolk, government inspectors said.
Suffolk Police and Crime Commissioner Tim Passmore rejected the plan in April.
Her Majesty's Inspectorate of Constabulary (HMIC) said the decision meant Suffolk Police had to identify "significant alternative savings".
Savings plans for the county are due to be announced in the autumn.
Norfolk Police has agreed to make savings of £20m from its £150m annual budget over four years.
It has already pledged to cut 350 posts from its workforce of 1,621 officers, 252 police community support officers and 1,137 civilian staff.
No 'silver bullet'
Suffolk Police has to make savings of £16.4m over four years from its annual budget of £124m.
HMIC rated budget plans in Suffolk as "good" while Norfolk's were "outstanding".
The proposal to share a control room based in Norfolk was supported by Norfolk's Police and Crime Commissioner Stephen Bett.
Zoe Billingham, HMIC inspector for the Eastern Region, said: "Norfolk has an alternative plan now the decision has been made, whereas Suffolk does not have a plan in the same sort of detail.
"Suffolk needs to be able to say to the public how those savings will be made."
Mr Passmore said an announcement about the proposed savings would be made later this year.
"This decision on the control room I am still absolutely convinced was the right thing to do and the saving was only £632,000," he said.
"It was never a silver bullet that was going to solve anywhere near the whole problem and what we're doing is working very hard to identify other areas of savings."
Suffolk's Deputy Chief Constable, Gareth Wilson, said: "We've proven over the years we've been able to find savings from areas which haven't impacted on the front-line service."
Norfolk was one of five forces out of 43 across England and Wales to be given the HMIC outstanding rating.
Norfolk's Chief Constable Simon Bailey said: "I remain committed to finding ways of using our diminishing budget in the most effective way to ensure our communities gain the maximum benefit."