Footballer Tyrone Mings vows 'to buy shirts for fans'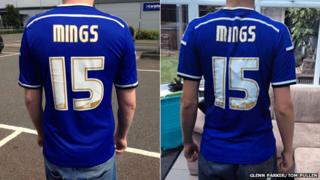 A footballer has been praised for a "great gesture" after pledging to buy new shirts for fans who had his old squad number printed on their new kits.
Ipswich Town's Tyrone Mings made the promise to two people on Twitter after his number changed from 15 to three.
The 21-year-old responded to one tweet by saying: "I'll get one made up and sent to you mate."
In March 2013, Mings gave away two match tickets after a fan commented about being "skint".
Ipswich Town's new squad numbers for the 2014-15 season were announced by the Championship club on Monday.
Tom Pullen, 18, from Mersea Island, Essex, had recently bought the club's new shirt and had "Mings" and "15" printed on the back.
After one of his friends commented about Mings' change of number on Twitter, the footballer replied: "I'll buy him a new one."
Mr Pullen said: "Tyrone made a great gesture. It's a great feeling, it just shows what a great community club Ipswich Town is.
"It's brilliant to see the interaction between the Town players and fans.
"I'd like to say thank you to Tyrone, and wish every success to him and the team this season."
Another fan told he would be receiving a new shirt was Glenn Parker, 26, an Ipswich Town season ticket holder for 19 years.
Mr Parker, from Mendlesham Green, Suffolk, tweeted a photograph of his shirt.
He said: "It was my decision to put 'Mings 15' on my shirt before waiting for the club to announce squad numbers so it was very generous of him to offer to replace my shirt if he did change his number."